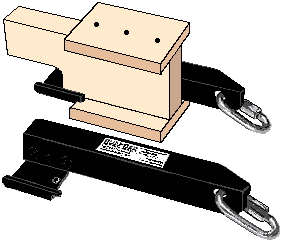 HOW TO ORDER
BUZZBAR 4-WAY
For 4-way entry (notched) stringer pallets.
3200 lb. Pulling and Turning capacity --- $ 49.00 ea.
The item listed above is currently available and can be shipped UPS or Priority Mail ( 2 to 3 day delivery ) to your location. Price above does not include shipping cost and will be added at time of order.
TO PLACE A RETAIL ORDER :
Call 248-625-4886. Our business hours are from 8:00 a.m. to 6:00 p.m. Monday through Friday. We accept the following credit cards:



Russell L. Simonson - Inventor - Manufacturer/Engineer
BUZZBAR is a Registered Trademark of Buzz Machine Co. (Est.1977) Clarkston, MI. USA.