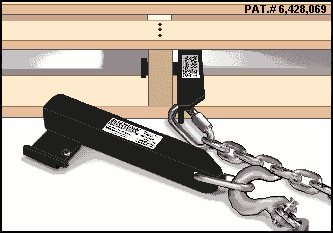 Pull Pallets Facing Any Direction With EASY One Hand Hook-up.
BUZZBAR Pallet Puller and Turner - For turning and pulling hard to reach wood stringer pallets out of truck beds and trailers that don't have access to loading docks. Forklift forks to short? Extend your reach with this hookup tool. The concept is simple and the benefits are overwhelming. The puller hook is shaped like a hand so it can pull on the lower deck board and steer with the stringer board. This interlocking configuration allows many exclusive benefits that are only available with the BUZZBAR pallet puller.
BUZZBAR 4-Way @ $ 49.00 ea.
3200 lbs. Pulling and Turning capacity
( for 2-way and 4-way entry stringer pallets )

To Order Call 248-625-4886. We accept Visa and Master Card

Buzz Machine Co. has been serving the Detroit and Flint Michigan area since 1977. Specializing in designing and building special machine tools, fixtures and part transfer equipment for the special machine tool industry.

Note! This pallet hook is not to be used for lifting or anything else other then turning and pulling "wood" stringer pallets that are within tools rated pulling capacity.

Russell L. Simonson - Inventor - Manufacturer/Engineer
BUZZBAR is a Registered Trademark of Buzz Machine Co. (Est.1977) Clarkston, MI. USA.